We Build Donation Generating Websites for Non-Profit Organizations

Free of Charge
Our Full-Service Non Profit Website Development Will Fuel Your NPO Growth
Our nonprofit website design services includes all the elements of a business website in addition to features unique to nonprofits.
We can maximize user experience and highly efficient security tools to ensure increased donations, interactive graphics and logo designs that capture the spirit of your organizations, relationship building features for donors and supporters. Features that increase community involvements
Trillsites offers best in class non profit website design services Just because your business is a non-profit organization, that doesn't mean you can afford to scrimp on your website design. A beautiful, intuitive design is extremely important to you.
Our Strategies For Creating An Elegant Non-Profit Website
Our website developers create the best non-profit websites. It doesn't matter if you are a new business or the existing one, we can work with well-established companies and for the start-ups. We keep in mind all the required factors while building a non-profit site such as mobile optimization and SEO friendliness.
Create a Successful Website For Your Group
Tell us a Lot
Your organization has a story to tell, a service to provide and a mission. Your digital marketing efforts should tell your visitors exactly what they need to know about your non-profit. The more we know about your group the better we can serve you.

Let's Make A Plan
With all the details of your organization understood by our team, it's time to organize your strategy. With over a decade of experience working with non-profit groups, we can share a ton of insight and best practices to make sure that you are getting the most bang for your buck.

Measuring Your Success
Creating measurable results is just as important as having the right information on your website. We can use Google Analytics to see what content your visitors are viewing. We can track donations as well as well as visitors requesting to volunteer. With the right strategy and team behind it, your success isn't far away.

A non-profit website we have delivered so far
Hanan is a non-profit organization committed to creating opportunities through education and mentorship for at risk refugees and orphans. By providing these at risk children with the basic needs necessary to go to school, we strive to build a generation of strong and confident individuals with high aspirations, despite the hardships they have endured.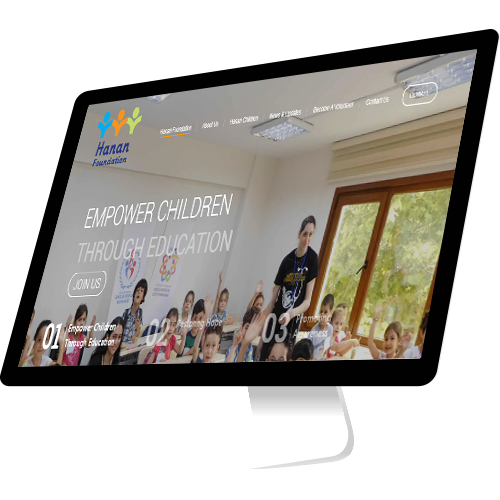 You're working to make the world better.
Let us help.